Storm Restoration For Commercial Areas – What to Expect?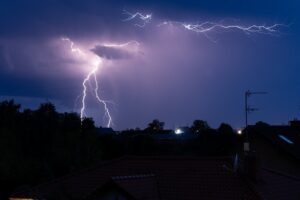 Climate change has made storm restoration for commercial areas a focal point for business owners in Downriver. That's because unexpected storms and natural disasters can prove costly when you're unprepared. These incidents leave massive destruction in their wake, often forcing businesses to close for days, weeks, and even months. In turn, you experience a loss of revenue and customers due to the disruption in production and deliveries.
Various factors determine the commercial restoration costs. These include the type of water damage and its extent, along with secondary problems like electrical fires, sewage overflows, and mold growth. Our commercial restoration company can deal with all types of structural issues in the aftermath.
This article gives you an overview of our mitigation plan:
Phase One: Evaluation of Storm Damage 
We begin mitigation with a careful assessment of the affected commercial site. Our trained technicians arrive within 45 minutes of the call or at a scheduled time, depending on your availability.
They conduct a diagnostic analysis to determine:
Type of water damage
Size and location of storm damage
Level of destruction
Potential risks (like electrical surges, fire risks, and mold infestation)
Number of trained personnel required to conduct onsite repairs and restoration
The time that workers will take to complete recovery and restoration
Commercial restoration costs
We use this information to plan personalized water mitigation strategies and select equipment for every phase. Each task aligns with individual circumstances and challenges. Thereby it ensures that nothing goes amiss during restoration.
Phase Two:  Mitigation and Stabilization 
After inspection, we shift our efforts for storm restoration for commercial areas towards water removal. This phase revolves around heavy-duty sump pumps and air dryers required to clear excess water from the building. That's because standing water puts equipment and personnel at risk.
Stabilization also includes the complete elimination of moisture buildup on surfaces and vents to reduce the risk of mold growth. We address every corner of your commercial property to detect mold infestation and underlying threats. In addition to water removal, we improve air quality to ensure that the commercial site meets OSHA requirements to prevent employee-related accidents post-storm.
Besides this, our disaster restoration services cover board-up and roof tarp options. These services protect your exposed structures from environmental elements during the restoration process. Technicians use wooden boards and waterproof facilities to create barriers against rainwater, sunlight, dirt, and other external factors. It's done to prevent further deterioration of the damaged building and inventory.
Phase Three: Water Damage Restoration
The last phase deals with the three Rs of restoration.
They are as follows:
Repairs of slightly damaged structures and cabinetry
Replacements of severely damaged and non-salvageable materials (i.e., upholstery, furnishings, floorboards, and others)
Reconstruction of the target site after the damaged structures get stripped down and removed
These are followed by sanitization treatment and deodorization of the damaged site. We take these steps to remove germs, mold spores, and foul smells from your premises. That way, you're less likely to face employee or consumer complaints after the business opens again.
Storm Damage Restoration for Commercial Areas: How Can We Help?
As an experienced commercial restoration company, we understand the response time plays a crucial role in mitigating storm damages. It's equally essential in accelerating the restoration process, consequently ensuring that you can resume business operations sooner rather than later. Due to this, we operate a 24/7 emergency service in Downriver. Our trained technicians will be available for consultation throughout the day and at odd hours of the night.
The always-on approach extends to a quick response time (approx. 45 minutes).  This way, you receive support within an hour, and water damage mitigation begins on the same day.  We go the extra mile by extending services to address:
Fire risks and mitigation
Mold testing and removal
Sanitization
Full-scale disaster recovery and restoration
Besides this, we offer insurance support for commercial clients. It typically revolves around the collection and documentation of property loss.  We do this by taking photographs and videos of the affected site. Additionally, we create inventories to list structural elements, furniture, and equipment lost in the storm's aftermath.
Our cooperative team can help you file an insurance claim if your current policy covers the cost of storm damage restoration for commercial areas.
The Bottom Line
Our commercial restoration company considers your budget and insurance coverage before setting the price. The services, equipment, and time required for mitigation affect the overall cost.
Working with IICRC-certified contractors with specialized training enables commercial businesses (like you) to steer clear of storm damage-related consequences. These include electrical fires, mold growth, and equipment loss. Our diligent work and efficient efforts to resolve structural issues and reduce the cost of recovery and property maintenance in the long run.
Would you like to know more about storm restoration for commercial areas? Call (734) 239-7803 or send a query online for further information.