Disaster Restoration in Downriver
Natural disasters can strike at any time, leaving tremendous property damage in their wake. Thunderstorms in the summer and snowstorms in the winter often wreak havoc on homes and places of business in Downriver. Residents of Downriver also have to worry about broken water lines, fires, mold growth, and more.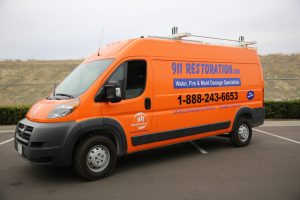 You do not have to deal with damage from flooding, fire, and mold on your own. Property owners can get timely help from Downriver disaster cleanup contractors to recover from:
Water Damage

Fire Damage

Mold Damage
You can get the help you need 24/7/365 from 911 Restoration. We know that catastrophes can strike at any time and we're ready to spring into action to provide you with:
Emergency Roof Repair

Emergency Storm Repairs

Emergency Boarding Up
Our disaster cleanup contractors in Downriver is IICRC certified and we work fast to handle your specific situation, even after the immediate emergency has passed. We are locally owned and operated with the resources to handle commercial and home water damage after a flood or a burst pipe.
We provide property owners in Downriver with full water extraction, including dehumidifying and drying services. We can even take care of storing your possessions while we handle other disaster cleanup services in Downriver. We know that water damage can be frightening and we understand what you need to get your property back in order.
Call us at (734) 239-7803 and please allow us to offer you a free visual inspection.
You can count on us to work with your insurance company. We value providing our customers with quick service, as our disaster restoration team knows that getting water damage cleaned up quickly can help you prevent additional mold damage to your property. Make sure you're protecting your investment by contacting the professionals at 911 Restoration of Downriver.
Our Mold Experts in Downriver Can Help You Immediately
Mold spores can pose serious health hazards. Mold often grows quickly after a property floods due to storms or burst water pipes. You can sometimes limit the risks associated with mold by getting a disaster restoration specialist to handle water damage cleanup quickly.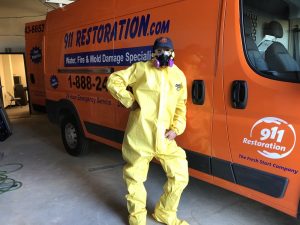 Our disaster restoration team also understands that some strains of mold are especially hardy and they may grow despite your best efforts to stop them.
If you have mold growth in your property you need mold remediation and mold cleanup services. 911 Mold Restoration provides free visual mold inspections for property owners. Our team also has the resources and connections to get mold testing performed at a third-party laboratory, so we know exactly what you're dealing with.
We'll get to work immediately to determine the best way to decontaminate your property and ensure that all traces of mold are removed, so you can feel comfortable again in your home or place of business.
911 Restoration of Downriver has years of experience helping property owners resolve mold issues. Our team can help you beat back the mold while taking care of the underlying issues – such as water damage – that allowed the mold to grow in the first place, so you don't have to deal with this situation again in the future. Call us at (734) 239-7803 and learn how we can help.
Reach out to our highly trained disaster restoration technicians today to get the peace of mind of knowing that your property is mold-free.
Get Help from Local Fire, Water, and Mold Restoration Services
Property damage has many causes. Water and mold are some of the most common challenges faced by property owners, but fires can also cause tremendous amounts of destruction. 911 Restoration of Downriver specializes in fire damage restoration.
Fires can result in damage to structures that requires extensive cleanup and sometimes a complete property restoration. We'll provide you with a free fire damage assessment if you've suffered a property fire. Our disaster restoration team uses top-of-the-line technology to handle fire clean-up, including sodablasting.
We know you also have to deal with smoke damage in the aftermath of a fire. It's important that you get your property back into pristine condition after any amount of fire damage. We'll return things to normal by providing you with:
Smoke Removal

Soot Removal

Ash Removal

Odor Removal
Our primary goal is helping you restore your property to a condition that is better than new.
Disasters can strike quickly and without warning in the Downriver area. You need skilled disaster restoration help right away after major storms, flooding, and fires. We can help you clean up water damage Belleville, mold damage, and the ruin left behind by fires and smoke.
We provide our clients with same day services because we believe you should not have to suffer needlessly after a disaster. Our licensed technicians are experienced, insured, and ready to handle any repair and restoration needs you have.
Call us at (734) 239-7803 and see how we can help you.
Serving the communities of Belleville, Carleton, Flat Rock, Ida, La Salle, Luna Pier, Maybee, Monroe, New Boston, Newport, Rockwood, Romulus, South Rockwood, Southgate, Taylor, Trenton, Willis, Wyandotte and surrounding areas.