Water Damage and Mold Removal in Carleton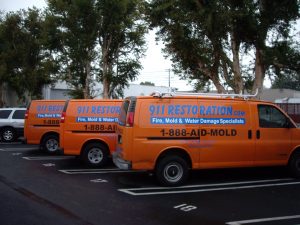 Get a Fresh Start after a flood, sewage backup, or pipe burst in Carleton by contacting the pros at 911 Restoration of Downriver right now. Our water damage restoration techs can begin flood cleanup today. All techs are IICRC certified to:
Provide You with a Water Damage and Mold Inspection

Begin Immediate Water Extraction

Dry Out Your Property with Dehumidifiers

Take Care of Commercial and Residential Mold Decontamination
Carleton flood cleanup and mold remediation techs can reach your property within 45 minutes of an emergency call to begin restoring and renovating your property. You can count on us to help you recover from a flooded basement, carpet water damage, a sewage spill, and other water damage events.
All water damage restoration and mold removal techs at 911 Restoration of Downriver are licensed, bonded, and insured. Crews have the experience and training to take on any pipe burst, flood, or sewage spills. No job is too big or too small for us, so contact us immediately if you need help with water damage cleanup or mold decontamination.
Why Get Professional Water Damage Restoration in Carleton?
It can be tempting to try to handle water damage restoration in Carleton on your own. However, flood cleanup involves more than just removing visible water from your property. Water can seep down into your floors and walls, leaving behind moisture that can continue to cause damage.
The flood cleanup pros at 911 Restoration of Downriver have air movers, fans, and dehumidifiers to get rid of all traces of moisture. Crews can also remove water quickly with professional-grade pumps, limiting the total damage to your property.
We are also ready to perform a mold inspection in Carleton if you're dealing with a flooded basement or crawlspace. Mold can grow quickly in these places. Let us check for signs of fungal growth and begin immediate mold removal if you require it.
All mold remediation techs have the training to completely erase all signs of a mold infestation. Begin mold decontamination and flood cleanup now by calling us.
Will Mold Remediation in Carleton Get Rid of Foul Odors?
Water damage events like floods or pipe bursts can have many consequences. A flooded basement in Carleton could damage your possessions, cause a mold infestation, and leave behind foul odors. Fortunately, mold remediation in Carleton can get rid of all of these problems for you.
Carleton mold removal techs are standing by to help after you experience a flooded basement, a pipe leak emergency, or storm damage. Carleton mold decontamination crews can:
Assess the Damage with a Mold Inspection

Isolate Areas Experiencing Mold Growth

Clear Out Mold Spores with Air Filters

Take Care of Total Odor Removal
Protect your health and your property after a flood or pipe burst by contacting 911 Restoration of Downriver for mold remediation services. Techs are ready 24/7/365 to begin water damage restoration and mold removal for you with a mold inspection.
Servicing the cities of Belleville, Carleton, Flat Rock, Ida, La Salle, Luna Pier, Maybee, Monroe, New Boston, Newport, Rockwood, Romulus, South Rockwood, Southgate, Taylor, Trenton, Willis, Wyandotte… and surrounding areas.