Water Damage and Mold Removal in Belleville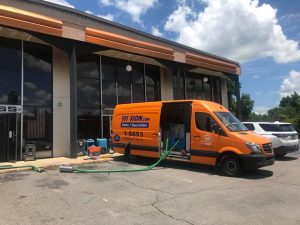 Are you facing water damage caused by heavy rain, storms, or a pipe burst in Belleville? If so, you can get professional help with flood cleanup by contacting 911 Restoration of Downriver immediately. All of our water damage restoration techs are IICRC certified to handle your needs. Crews are on-call 24/7/365 to offer you a Fresh Start by:
Beginning Immediate Water Extraction

Setting Up Dehumidifiers to Dry Your Property

Checking for Signs of Mold Growth with a Mold Inspection

Handling Complete Mold Decontamination
You can contact us right away if you are dealing with a flooded basement in Belleville. Techs can get to work now to stop additional water from entering your property and to remove the water you are already facing. Let us ensure your property is completely dried out with water damage restoration services.
Property restoration techs can also handle mold remediation in Belleville. Mold may grow quickly if you have a flooded basement, leaking pipe, or carpet water damage, so contact us now for mold removal and mold decontamination in Belleville.
How Quickly Can Water Damage Restoration in Belleville Begin?
Here at 911 Restoration of Downriver, we understand how important it is to move quickly when you're dealing with a flooded basement of a pipe burst. Crews can begin flood cleanup with same-day services. In fact, Belleville water damage restoration techs can reach your property within 45 minutes of your emergency call.
Getting professional help with flood cleanup right away can reduce the overall damage to your property. Techs can drain your flooded basement and use infrared scanners to search for signs of hidden moisture. They can also look for signs of mold growth with a mold inspection in Belleville.
Mold can thrive in areas that are damp, like a flooded basement. For this reason, you may need mold removal services following a flood or a pipe burst. Fortunately, the crews at 911 Restoration of Downriver are trained to handle mold remediation and mold decontamination for you.
Does Mold Remediation in Belleville Take Care of Black Mold?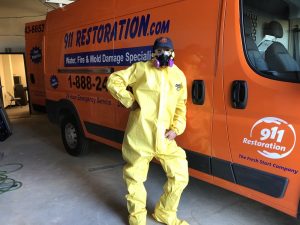 Property owners in Belleville may be especially concerned about black mold following a flood or a pipe burst. This toxic fungus can even grow in Belleville without a water damage event, as our area is often muggy and damp throughout the year.
Mold remediation can wipe away all signs of black mold, protecting your property and your health. Let Belleville flood cleanup techs check for mold growth with a mold inspection today. If mold removal techs spot signs of water damage or a fungal infestation with the mold inspection, they can:
Begin Immediate Drying and Dehumidification

Isolate Areas Impacted by Mold

Clean Your Property with Mold Decontamination
Let us take charge of your water damage restoration and mold removal needs in Belleville. Your property can be returned to better-than-new condition, giving you back your peace of mind right now. Contact us today for help with water damage repairs and mold remediation.
Servicing the cities of Belleville, Carleton, Flat Rock, Ida, La Salle, Luna Pier, Maybee, Monroe, New Boston, Newport, Rockwood, Romulus, South Rockwood, Southgate, Taylor, Trenton, Willis, Wyandotte… and surrounding areas.