Water Damage and Mold Removal in Monroe
A water disaster can strike at any time, especially in Monroe. In addition to common incidents such as pipe bursts and washer machine floods, the frequency of rain, snow, and ice dams puts local properties in an always-vulnerable position. The good news is that if you've experienced water damage in Monroe or the surrounding area, expert help is standing by 24/7/365.
Just call 911 Restoration of Downriver, and IICRC certified water damage restoration technicians will be at your door in 45 minutes or less. That's true whether it's a weekday or a weekend, whether it's 12:00 a.m. or 12:00 p.m. The flood cleanup experts approach every job with compassion, treating your disaster as urgently as if it were their own and communicating clearly so you understand everything they do and their reason for doing it.
And what do they do?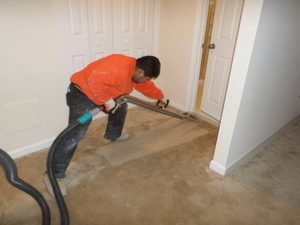 Well, pretty much whatever you need! Every member of the water damage restoration staff is extensively trained in everything from emergency roof repair to water extraction to mold inspection and mold remediation. They get rid of the water, address the root of the problem, and restore your property so it's stronger and better than ever before. They don't just fix today's problem. They give you a Fresh Start for tomorrow.
Worried about the cost of water damage restoration? Our flood cleanup staff will put your mind at ease with a free insurance consultation. They go over your policy with you to make sure you know which services are covered by your provider, whether you need sewage removal, carpet drying, or mold decontamination. That way, you go into the water damage restoration process with eyes wide open. The team even takes claim filing off your plate so you don't get tangled up in the stress of insurance paperwork.
Whether you've been through a pipe burst or a tornado, know this: You are not alone. As soon as the flood cleanup crew receives your call, they're in it with you 100%. Reach out to 911 Restoration of Downriver now for the support you deserve.
Emergency Water Removal And Water Damage Restoration In Monroe
Do you own a midcentury home? A condo? Warehouse? Restaurant?
No matter what type of property has just been struck by a pipe burst or flooded basement, you can be sure the crew at 911 Restoration will take care of it. And they'll take care of it fast. The water damage restoration staff has handled a lot of flood cleanup in Monroe and the surrounding community, and you can bet they're prepared to take good care of you.
When they arrive on the scene, they immediately assess the situation. They check to see if you have any at-risk belongings that should be packed up and kept safe in a separate location. They make sure the flow of water has been stopped completely and examine the area to see if they need to take any additional measures such as roof repair or boarding up to make sure no new water enters during water damage restoration services. The team determines the most efficient way to manage water or sewage removal. Then, when all the liquid is gone, they dry the area completely to prevent any long-term rotting or mold contamination. This is especially important following a flooded basement, as concrete floors are more absorbent than many property owners realize.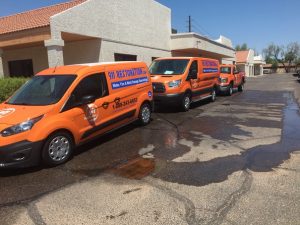 The water damage restoration staff believes that recovering from a pipe burst or storm damage should be as easy as possible. This means you only have to make one phone call and pay one contractor. To that end, every flood cleanup professional has been trained in all aspects of surface and structural repair, mold inspection, and mold remediation. By the time they're finished with your property, it will feel as new as the day you bought it.
You can find a Fresh Start with 911 Restoration of Downriver. Call today.
Full-Service Mold Remediation in Monroe
Think you have a mold problem after your flooded basement incident? Or maybe it's just the muggy climate that has lead to an unsightly growth creeping across your walls. Whatever the cause, you should call a certified mold inspection contractor like 911 Restoration as soon as possible.
You may be tempted to look up a home remedy for mold removal online and attempt mold remediation yourself. The problem with this approach is that truly effective mold decontamination is a comprehensive, multi-step process designed to get rid of mold once and for all.
A mold remediation professional conducts a thorough mold inspection to make sure the growth you've seen hasn't spawned additional colonies out of sight. Then, they tackle mold removal using specialized tools and knowledge, ensuring that their methods are safe and complete. This not only guarantees effective elimination of the fungus; it also keeps you safe. When you attempt DIY mold removal, you place yourself in direct contact with a mold colony that may release dangerous particles into the air you breathe.
Finally, the mold remediation staff completes mold removal with preventative methods such as a structural dehumidifying. This is a process the average home or business owner cannot take care of themselves, which means the surface where mold formed is left damp and vulnerable to a future infestation.
Whether it's flood cleanup or mold decontamination, you can trust 911 Restoration of Downriver to do the job completely and with your best interests in mind. Call 911 Restoration today, and be treated like a neighbor as well as a customer.
Servicing the cities of Belleville, Carleton, Flat Rock, Ida, La Salle, Luna Pier, Maybee, Monroe, New Boston, Newport, Rockwood, Romulus, South Rockwood, Southgate, Taylor, Trenton, Willis, Wyandotte, and surrounding areas.