Sewage Backup Cleanup in Downriver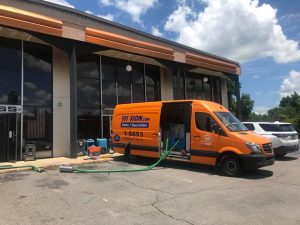 Most property owners never want to imagine the difficulties associated with handling a sewage backup in Downriver. Unfortunately, homes and businesses in the Downriver area can experience sewage backups, leading to tremendous amounts of damage.
911 Restoration can provide you with the immediate assistance you need in a raw sewage emergency. It is vitally important that you begin the raw sewage cleanup process immediately. Sewage can carry pathogens, including dangerous bacteria, into your home or business. Do not risk your health by trying to clean up sewage on your own.
Sewer backup cleanup in Downriver should only be attempted by trained professionals who have the equipment needed to handle sewage removal and water damage restoration safely. Sewage is so dangerous because it is generally considered:
Grey Water

. You may be dealing with grey water after a toilet overflow, if the water does not contain feces. Viruses and bacteria can be found in grey water, though the water is not considered grossly contaminated.
Black Water.

Black water is far more dangerous than grey water. Any water that has been exposed to untreated sewage can be considered black water. Individuals who are in contact with black water may become seriously ill because of the pathogens contained in the liquid.
Make sure you handle raw sewage cleanup in a safe way by contacting 911 Restoration of Downriver immediately. We can respond to an emergency call within 45 minutes. Our technicians can offer free visual inspections for property owners only once they arrive at your property. Call us at (734) 239-7803 and see how we can help you.
Handling Raw Sewage Cleanup in Downriver
You can start the sewage cleanup in Downriver process right away by calling 911 Restoration of Downriver. We can help you 24/7/365. Our skilled technicians are certified by the IICRC to handle water damage restoration caused by sewage.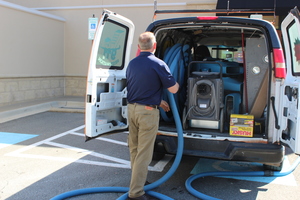 911 Restoration of Downriver understands the many issues that can cause sewage backups in homes and businesses. If your property has recurring issues with raw sewage backups, you may be facing:
A Blocked Drain

. Drains can be blocked by objects that should not be flushed. Fats and oils poured down kitchen drains can also lead to blocks. These blocks prevent sewage from moving down sewer lines, leaving it with nowhere to go but back into your home or business.
A Collapsed Drain.

Modern sewer lines are unlikely to collapse. However, older pipes made of clay may give way as they age. These clay pipes may also become clogged with tree roots, causing problems for your sewage system and necessitating water damage restoration.
You deserve fast and effective help handling raw sewage cleanup, regardless of the causes for this disaster. 911 Restoration of Downriver uses cutting-edge technology to remove raw sewage from your home or business. Technicians will fix the backup so additional sewage cannot enter your property.
Call 911 Restoration franchise at (734) 239-7803 and please allow us to offer you a free visual inspection.
Once the raw sewage has been removed, our experienced technicians can handle decontamination and water damage restoration. Water can break down the fixtures and furniture in your property. We believe in restoring as much of your property as possible to save you money. However, some items may not be salvageable when completing raw sewage cleanup.
24/7 Water Damage Services Here at Home
You do not have any time to spare when dealing with a sewage backup emergency. 911 Restoration of Downriver is a locally owned and operated company that can reach your home or property quickly. We are backed by national resources that give us the tools and equipment to effectively handle sewer backups in Downriver at any scale.
You can protect your health by beginning the sewage cleanup process immediately. Water damage restoration Belleville involves removing water, dehumidifying your property, repairing any damage, and checking for the growth of mold. Sewage contains many kinds of bacteria and other pathogens which can increase the odds that you will experience mold growth.
911 Restoration of Downriver has experience working with all insurance companies. Let our team help you file claims and move forward with the sewage damage restoration process. This can lower your stress levels as your property undergoes sewage cleanup and water damage restoration.
Property owners who reach out to professionals right away may be able to cut the overall costs to complete sewage cleanup. You can rely on 911 Restoration of Downriver to spring into work right away after an emergency call. Let us pack out and store your undamaged belongings, so they remain safe while the water damage restoration process proceeds. Call us at (734) 239-7803 and learn how we can help.
Our team will work tirelessly to restore your home or business to better-than-new condition after you experience any kind of sewage backup.
Serving the communities of Belleville, Carleton, Flat Rock, Ida, La Salle, Luna Pier, Maybee, Monroe, New Boston, Newport, Rockwood, Romulus, South Rockwood, Southgate, Taylor, Trenton, Willis, Wyandotte and surrounding areas.