Water Damage and Mold Removal in Southgate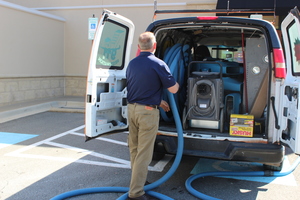 Are you dealing with water damage caused by flooding, sewage backup, or a pipe burst in Southgate? If so, the flood cleanup pros at 911 Restoration of Downriver are standing by to help. You can contact our IICRC certified water damage restoration techs 24/7/365. Get a Fresh Start after a pipe burst or basement flood by allowing us to:
Complete a Water Damage and Mold Inspection

Begin Immediate Water Extraction for You

Focus on Drying Your Property with Dehumidifiers

Renovate and Repair Your Home or Business

Handle Mold Decontamination and Odor Removal
Our water damage restoration techs are trained to deal with water damage and mold infestations. Crews can begin mold remediation in Southgate with same-day services, so you don't have to worry about this fungus continuing to spread through your property if you had a flooded basement.
Take immediate steps to get back your peace of mind after a flood or pipe burst. Contact the licensed, bonded, and insured flood cleanup and mold removal techs at 911 Restoration of Downriver now.
Can Water Damage Restoration in Southgate Help in an Emergency?
Emergency situations can strike without warning in Southgate. Heavy rains, tornadoes, and pipe bursts can leave you dealing with devastating amounts of water in your home or business. In this situation, you need help quickly, which is why our water damage restoration techs can offer you:
Emergency Water Extraction

Emergency Boarding Up and Roof Repairs

Emergency Packing Out and Storage Services
Southgate flood cleanup crews are also here to help after an emergency passes. We can help you repair and restore a flooded basement or crawlspace, while providing a mold inspection in Southgate to check for fungal growth. Any signs of mold can be addressed quickly with mold decontamination and mold remediation in Southgate.
Let Southgate mold removal techs get to work for you right away. Crews have the equipment and resources to complete total mold remediation in your home or business, returning your property to pristine condition.
What Happens During Mold Remediation in Southgate?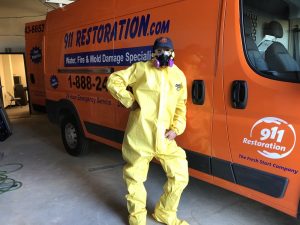 Mold remediation in Southgate is often an important aspect of water damage restoration in Southgate. This is because mold can spread quickly after a flood or pipe burst, especially if you're dealing with a flooded basement. Let us go over the steps in mold removal now so you understand the process. Mold cleanup can involve:
A Free Visual Mold Inspection for Property Owners Only

Isolating Areas Experiencing Mold Growth

Setting Up Air Filters for Mold Spores

Handling Mold Decontamination

Taking Care of Total Odor Removal

A Final Mold Inspection to Ensure the Infestation is Gone
The flood cleanup techs at 911 Restoration of Downriver are ready to take care of mold decontamination in Southgate. Let us repair, renovate, and restore your home or business so you can move forward with a Fresh Start after experiencing a flooded basement. We're here to begin flood cleanup and mold removal now.
Servicing the cities of Belleville, Carleton, Flat Rock, Ida, La Salle, Luna Pier, Maybee, Monroe, New Boston, Newport, Rockwood, Romulus, South Rockwood, Southgate, Taylor, Trenton, Willis, Wyandotte… and surrounding areas.