Water Damage and Mold Removal in Romulus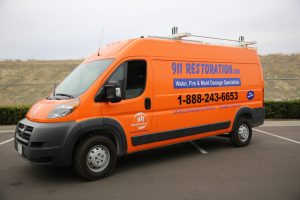 Do you need help repairing your property after a flood, major storm, or pipe burst in Romulus? 911 Restoration of Downriver can provide you with flood cleanup services 24/7/365. Contact us now and IICRC certified water damage restoration techs can reach your property within 45 minutes of an emergency call to offer you a Fresh Start.
Our Romulus flood cleanup crews have the experience and training to deal with:
Damage Caused by a Flooded Basement

Natural Disasters, Snow, and Heavy Rains

Water Extraction and Dehumidification

Mold Removal and Mold Decontamination
We know that water damage can lead to mold growth. That's why crews can perform a mold inspection in Romulus to check for signs of a fungal infestation. If techs spot any signs of mold, they can begin mold remediation for you right away.
Put yourself in good hands after a water damage event, like a pipe burst or a flood, by contacting 911 Restoration of Downriver. Techs can provide you with same-day water damage restoration and mold remediation services.
How Long Will Water Damage Restoration in Romulus Take?
The exact amount of time it will take to complete water damage restoration in Romulus will depend upon:
The Level of Structural Damage to Your Property

The Amount of Water in Your Home or Business

The Length of Time Water Was Allowed to Remain in Your Property
Beginning flood cleanup right away can limit the total time for water damage restoration, allowing you to get back to your normal life quickly. Fortunately, 911 Restoration of Downriver offers same-day flood cleanup services, so you can get started with repairs on your flooded basement right away.
We can perform a mold inspection while repairing your property. If you need mold removal in Romulus, techs are standing by to address all of your needs. Crews can take care of mold decontamination in Romulus right now, getting rid of unwanted fungus growing in your home or business.
When Do You Need Mold Remediation in Romulus?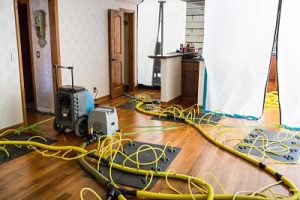 Mold is a fungus that lives naturally in the world around us. It can infest your home or business following a water damage event, like a flooded basement. In fact, the damp, dark environment created by a flood basement in Romulus often provides mold with the perfect place to grow.
Mold remediation in Romulus can erase a mold infestation from your property. You may also discover you need mold removal services after a pipe burst, or when dealing with a leaking pipe. Even the muggy weather around Romulus could potentially lead to a mold infestation.
Find out if you require mold decontamination with a mold inspection. During your mold inspection, crews can also assess your water damage restoration needs. Let us handle flood cleanup and mold removal for you, starting right now. Get back your peace of mind after a pipe burst by calling us today for mold remediation and mold decontamination services.
Servicing the cities of Belleville, Carleton, Flat Rock, Ida, La Salle, Luna Pier, Maybee, Monroe, New Boston, Newport, Rockwood, Romulus, South Rockwood, Southgate, Taylor, Trenton, Willis, Wyandotte… and surrounding areas.