Water Damage and Mold Removal in Flat Rock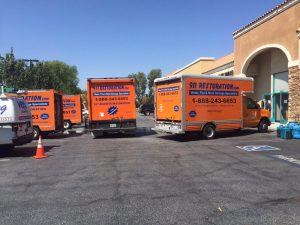 The professionals at 911 Restoration of Downriver can help you handle a flood, sewage backup, or pipe burst in Flat Rock. Our IICRC certified water damage restoration techs can reach your property within 45 minutes of an emergency call, 24/7/365. Flood cleanup crews are dedicated to providing you with a Fresh Start by:
Removing Water from Your Property Right Away

Packing Out and Storing Your Undamaged Belongings

Using Dehumidifiers and Fans to Get Rid of Moisture

Checking Your Property for Fungal Growth with a Mold Inspection
Mold can be a serious issue if you are dealing with a flooded basement in Flat Rock. Let mold remediation techs check for this fungus with a mold inspection. Licensed, bonded, and insured crews can begin mold remediation in Flat Rock right away if they spot signs of mold.
Your property can be brought back to better-than-new condition with water damage restoration and mold removal in Flat Rock. Get the restoration process started now by contacting us if you have a flooded basement. Crews can even take care of mold decontamination for you.
How Quickly Should Water Damage Restoration in Flat Rock Begin?
A water damage emergency can strike suddenly in Flat Rock. A pipe burst or heavy rains can lead to disastrous levels of water flooding into your home or business. It is important that you begin flood cleanup within hours of a water damage event to limit the total damage to your property.
911 Restoration of Downriver understands the importance of handling a flooded basement, pipe burst, or sewage spill as quickly as possible. That's why Flat Rock flood cleanup techs remain on-call around the clock, so you don't have to wait around for business hours when dealing with a natural or manmade disaster.
Once Flat Rock water damage restoration techs reach your property, they can perform a water damage and mold inspection to asses your needs. Let crews handle mold remediation and mold decontamination as they get rid of excess water and repair structural damage to your property.
What Are Your Options for Mold Remediation in Flat Rock?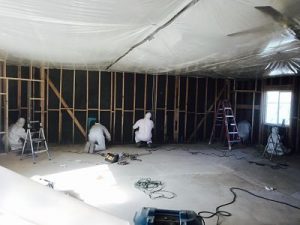 Mold remediation is a serious concern following a pipe burst, flood, or sewage spill in Flat Rock. Fungus can grow quickly in a flooded basement or in soaked carpet. You may be wondering what options you have to take care of mold removal quickly and thoroughly.
The mold decontamination techs at 911 Restoration of Downriver can go over your options after completing a mold inspection in Flat Rock. Your mold inspection can reveal if mold removal techs will need to:
Set Up Sheeting to Isolate Areas Infested with Mold

Use Air Filters to Get Rid of Mold Spores

Use Personal Protective Gear to Deal with Toxic Molds
Crews can also determine the best cleaners and strategies to use for mold decontamination in Flat Rock during the flood cleanup process. Erase all signs of a water damage event and mold infestation by contacting 911 Restoration of Downriver today for water damage restoration and mold removal services.
Servicing the cities of Belleville, Carleton, Flat Rock, Ida, La Salle, Luna Pier, Maybee, Monroe, New Boston, Newport, Rockwood, Romulus, South Rockwood, Southgate, Taylor, Trenton, Willis, Wyandotte… and surrounding areas.