Water Damage and Mold Removal in New Boston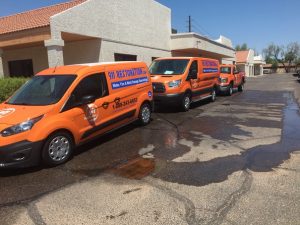 Are you dealing with a flood, sewage backup, or pipe burst in New Boston? Did you know you could get same-day water damage restoration services by contacting 911 Restoration of Downriver? Our IICRC certified New Boston flood cleanup techs can handle a flooded basement, flooded crawlspace, or any other water damage emergency. Secure a Fresh Start by contacting us 24/7/365 for:
A Water Damage and Mold Inspection

Help with Immediate Water Extraction

Moisture Removal with Advanced Equipment

Mold Decontamination Services
New Boston water damage restoration techs can reach your property within 45 minutes of an emergency call, so you can get help fast after a pipe burst. Techs are licensed, bonded, and insured to take care of flood cleanup and mold remediation in New Boston.
Let us assess all your needs with a water damage and mold inspection. Mold removal techs can use their findings to develop a personalized plan to completely renovate and restore your property following a pipe burst. Call us today to get back your peace of mind.
Can Water Damage Restoration Help with a Flooded Basement?
A flooded basement in New Boston can be a serious problem for commercial and residential property owners. Water extraction from a flooded basement generally requires professional-grade pumps and dehumidifiers to make sure that all traces of moisture are removed.
Fortunately, water damage restoration in New Boston can address all of these issues, as well as any concerns you might have regarding mold growth. Flood cleanup techs can perform a mold inspection in New Boston to determine if your flooded basement left you with a fungal infestation.
Crews can begin mold remediation right away for you, stopping mold from continuing to spread throughout your property. Let us handle mold decontamination in New Boston with same-day mold removal services.
Our licensed, bonded, and insured flood cleanup techs can also help you recover from other water damage emergencies. Contact us now if you are dealing with frozen pipes, a ceiling leak, carpet water damage, or any other water damage event.
What Strains of Mold Can Mold Remediation in New Boston Handle?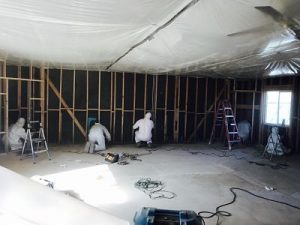 There are many different types of mold in the world around us. Some of these strains of mold are toxic and can endanger your health. All forms of this fungus can damage your property. Luckily, mold remediation can eradicate all types of mold from your home or business.
New Boston mold removal techs can get to work handling any kind of mold infestation by:
Completing a Free Visual Mold Inspection for Property Owners Only

Using Sheeting to Isolate Mold Infested Areas

Setting Up Air Filters to Get Rid of Mold Spores

Disinfecting Your Property with Mold Decontamination
A mold inspection allows mold decontamination techs to personalize your mold remediation services. Take on any water damage event – like a pipe burst – or mold infestation by contacting 911 Restoration of Downriver today for water damage restoration and mold removal services.
Servicing the cities of Belleville, Carleton, Flat Rock, Ida, La Salle, Luna Pier, Maybee, Monroe, New Boston, Newport, Rockwood, Romulus, South Rockwood, Southgate, Taylor, Trenton, Willis, Wyandotte… and surrounding areas.