Water Damage and Mold Removal in Maybee
If you need water damage restoration in Maybee or the surrounding area, you can reach 911 Restoration of Downriver at literally any time of the day or night, any day of the year. The flood cleanup experts on staff are always available and ready to provide you with emergency service following a pipe burst, flooded basement, or any other type of water disaster. They guarantee an arrival time of 45 minutes or less, so you're not left anxiously wondering how long it will be until help arrives.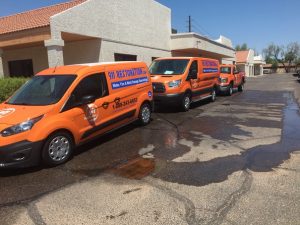 Our water damage restoration technicians are all highly trained in all aspects of flood cleanup and mold remediation. They are IICRC certified and 911 Restoration is licensed, bonded, and insured. No matter what you need—whether it's sewer flood cleanup, relief after storm damage, water extraction following a pipe burst, mold removal, or anything else—our team is more than equipped to handle it. They even repair damages ranging from roof destruction to drywall replacement. You won't have to find another contractor; you can count on 911 Restoration to give you a Fresh Start.
The comprehensive care our water damage restoration professionals provide doesn't end with cleanup and repair. We see to your peace of mind with a free visual assessment for property owners and a free insurance consultation. The water damage restoration process can sometimes become complicated and call for several different services. You might not know if your provider covers the details like sewage cleanup, carpet removal, and mold remediation. If you don't know, don't sweat it. A friendly flood cleanup staff member goes over your policy, clarifies your coverage, and takes care of the paperwork for you.
Our water damage restoration and mold decontamination crew know how much stress you're under, and their first goal is to give you total peace of mind. Take it easy, take a deep breath, and call 911 Restoration of Downriver today.
24-Hour Basement Flood Cleanup in Maybee
Our flood cleanup technicians have experience with all kinds of properties, from private homes to commercial properties. They've dealt with a wide range of water disasters from pipe bursts to tornado damage. One of the most common calls they get is for flooded basement emergencies.
As with any other water damage crisis, our technicians respond to a flooded basement call with the utmost urgency. They arrive at the scene in no more than 45 minutes and immediately do whatever needs to be done to stop the flow of water, whether that's emergency boarding up or leak detection. The crew uses professional equipment to extract the water, then brings in heavy-duty fans to dry out the area completely. Throughout the process, you can be sure your valuable belongings are kept safe, as the flood cleanup staff pack out and store any item that appears to be in harm's way.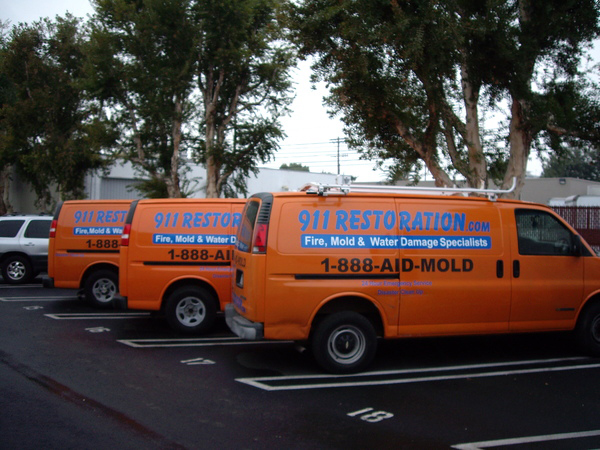 Once the area is completely dry, your dedicated water damage restoration crew takes the time to check for structural soundness and water damage on sheetrock, drywall, and other surfaces. These highly trained specialists repair any problems they discover, leaving your property in even better condition than before the water disaster hit. Finally, they conduct a mold inspection and eliminate any growth.
An urgent response is your best defense against costly property damage, and you can expect exactly that from the flood cleanup workers at 911 Restoration of Downriver. Call now for the ultimate peace of mind.
Is a Mold Inspection Necessary After Water Damage? 
Our water damage restoration staff is fully trained and certified in mold inspection and mold remediation because proactive decontamination is such an essential aspect of flood cleanup. It takes almost no time at all for mold colonies to form after a pipe burst or other disaster. And previously flooded basements are especially vulnerable, as mold thrives in dark, damp spaces. 
If you've recently had a water incident but didn't get a mold inspection, you should call the certified mold removal specialists at 911 Restoration right away. It's especially important to pursue mold remediation in Maybee and the nearby communities, as the muggy summer climate encourages mold growth and makes the dehumidification process following water damage longer.
When the mold removal experts discover a colony during mold inspection, they determine the type of infestation and strategize a plan for mold remediation. They only use the most advanced tools and safest methods for mold removal, careful to reduce the spread of spores and mycotoxins for the sake of your property and your health. Once mold removal is complete, they use specialized tools for structural dehumidifying. This step dries out the surface completely, making it far less likely that mold spores will return and form new colonies. And just as with the flood cleanup process, the mold remediation staff repairs or replaces any material that has been damaged by the infestation.
The experts at 911 Restoration think of everything. Call now and let us take every last worry off your plate.
Servicing the cities of Belleville, Carleton, Flat Rock, Ida, La Salle, Luna Pier, Maybee, Monroe, New Boston, Newport, Rockwood, Romulus, South Rockwood, Southgate, Taylor, Trenton, Willis, Wyandotte, and surrounding areas.