Water Damage and Mold Removal in Wyandotte
Commercial and residential property owners in Wyandotte can get same-day help with flooding, pipe bursts, and sewage backups by contacting 911 Restoration of Downriver. Our water damage restoration techs are IICRC certified to handle flood cleanup and mold remediation. You can get a Fresh Start by contacting us for help with:
Restoring a Flooded Basement or Crawlspace

Carpet Water Damage

Leaks in Your Ceilings or Walls

Sewage Spills and Toilet Water Damage

Mold Decontamination and Odor Removal
Our Wyandotte water damage restoration crews are on-call 24/7/365, so you can get help with flood cleanup in Wyandotte when you need it most. You can get same-day service from our licensed, bonded, and insured property restoration crews.
Techs can even provide you with a mold inspection after a water damage event, like a pipe burst in Wyandotte. If your mold inspection shows signs of fungal growth, crews can begin mold removal and mold decontamination immediately for you.
What's Involved in Water Damage Restoration in Wyandotte?
You may be wondering what to expect if you're dealing with a flooded basement, a leaking pipe, or a sewage spill in Wyandotte. Water damage restoration can help you recover from any of these issues. Generally, water damage restoration in Wyandotte involves:
A Water Damage and Mold Inspection

Water Extraction with Professional Grade Pumps

Moisture Removal with Dehumidifiers, Fans, and Air Movers

Repairs for Damage to Floors, Walls, and Ceilings

Comprehensive Mold Removal
All aspects of flood cleanup and mold decontamination in Wyandotte are designed to return your property to better-than-new condition. Techs are licensed, bonded, and insured to take care of your flooded basement or any other water damage emergencies.
Contact us now to let flood cleanup and mold remediation techs get to work for you. Mold removal crews will not consider the job done until all evidence of a pipe burst, sewage spill, or natural disaster are completely removed.
Should You Start Mold Remediation in Wyandotte Right Away?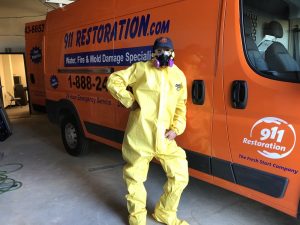 Fortunately, the pros at 911 Restoration of Downriver will not make you choose between flood cleanup and mold remediation in Wyandotte. As a full-service property restoration company, techs have the training and resources to take care of water damage restoration and mold decontamination in Wyandotte.
Let us start working on your property now with a mold inspection in Wyandotte. The results of your mold inspection can allow techs to develop a personalized property restoration plan designed to meet your unique needs. Return your property to the pristine condition you deserve after a pipe burst, major storm, or sewage spill by contacting mold remediation techs now.
Servicing the cities of Belleville, Carleton, Flat Rock, Ida, La Salle, Luna Pier, Maybee, Monroe, New Boston, Newport, Rockwood, Romulus, South Rockwood, Southgate, Taylor, Trenton, Willis, Wyandotte… and surrounding areas.