Mold Removal in Romulus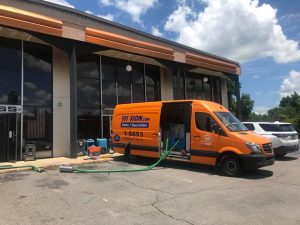 Completely restore your property after a mold infestation in Romulus by contacting 911 Restoration of Downriver. Our IICRC certified mold removal techs can reach your property within 45 minutes of an emergency call, 24/7/365. You can get a Fresh Start following a fungal outbreak. We can offer you:
Help from Licensed, Bonded, and Insured Mold Cleanup Techs

A Free Visual Mold Inspection for Property Owners Only

Mold Testing Carried Out by a 3

rd

Party Laboratory

Commercial and Residential Mold Decontamination
Romulus mold remediation experts can also help handle the underlying causes of your mold infestation. As a full-service property restoration company, crews have the training and experience to take care of water damage restoration and flood cleanup.
Your property can be returned to the perfect condition you deserve quickly if you reach out to 911 Restoration of Downriver. Let mold decontamination techs handle water damage, get rid of mold growth, and completely renovate your property.
How Quickly Should You Begin Mold Remediation in Romulus?
It's important that you get help with mold remediation in Romulus as soon as you spot signs of mold in your home or business. This is because mold will continue to spread each hour that it remains in your property. Additionally, it is likely that the visible mold you spotted only represents a small portion of the total mold infestation you are facing.
You can find out more about your mold infestation with a mold inspection in Romulus. The mold cleanup techs at 911 Restoration of Downriver can complete your mold inspection quickly and move on to developing a personalized mold removal plan.
We have the resources and equipment to handle all of your Romulus mold cleanup needs. Crews can offer same-day mold remediation services, so you don't have to worry about mold spreading further throughout your home or business.
What Should You Expect from Mold Decontamination in Romulus?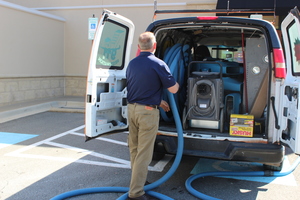 Here at 911 Restoration of Downriver, we don't believe that mold decontamination is a one-size-fits-all process. Crews will personalize mold cleanup services for you, depending upon the results of your mold inspection. Based on your needs, Romulus mold removal professionals can:
Set Up Sheeting to Isolate Areas with Mold Growth

Remove Mold Spores with Air Filters

Disinfect Your Property and Possessions

Deal with Water Damage Restoration

Remove Odors Caused by Fungal Growth
Your property can be brought back to perfect condition with mold remediation services. The mold experts at 911 Restoration of Downriver have the training and experience to handle both commercial and residential mold outbreaks.
Crews can also take care of water damage in your property to reduce the odds that you'll face additional mold outbreaks. Take steps to secure your peace of mind now and in the future by calling us today. Techs can start the mold removal process within 45 minutes of your call.
Servicing the cities of Belleville, Carleton, Flat Rock, Ida, La Salle, Luna Pier, Maybee, Monroe, New Boston, Newport, Rockwood, Romulus, South Rockwood, Southgate, Taylor, Trenton, Willis, Wyandotte… and surrounding areas.