Mold Removal in Southgate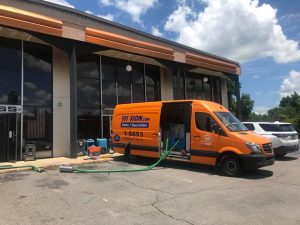 A mold infestation in Southgate can be erased by the mold removal pros at 911 Restoration of Downriver. Our mold remediation techs are IICRC certified to take care of commercial and residential fungus outbreaks. You can reach us 24/7/365 and techs can start working on your Fresh Start within 45 minutes of your emergency call.
Getting professional help on your side right away can reduce the total mold damage to your property. Let mold cleanup experts:
Perform a Free Visual Mold Inspection for Property Owners Only

Identify Your Mold with Mold Testing by a 3

rd

Party Laboratory

Isolate Areas Infested with Mold

Begin Comprehensive Mold Decontamination

Pack Out and Store Your Un-Infested Belongings
You can even count on us to help with water damage restoration, starting with a mold inspection. Flooding, pipe bursts, and sewage backups can all lead to mold infestations. This means that flood cleanup and mold remediation often go hand in hand in Southgate.
Why Get Professional Help with Mold Remediation in Southgate?
Some property owners wonder if they can handle mold cleanup in Southgate on their own. While this may be possible in some cases, it is highly recommended that you turn to the professionals for mold removal services, because:
Some Forms of Mold Can Only Be Safely Removed with Protective Gear

Mold Can Grow in Hard-to-Reach Places, Like Under Floors or Behind Walls

Mold Spores Can Remain and Spread If They Aren't Professionally Removed
A professional mold decontamination company can also help you address issues caused by water damage. You may need water damage restoration services to recover from a leaking pipe that led to a mold infestation, for example.
Find out how the Southgate mold removal professionals at 911 Restoration of Downriver can help you with a mold inspection in Southgate.
How Quickly Can Southgate Mold Decontamination Begin?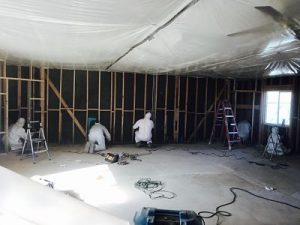 Mold can continue to spread each hour that it remains in your property. For this reason, it's important that you begin mold removal as quickly as possible. 911 Restoration of Downriver puts you first after a mold infestation. Mold cleanup techs can start mold remediation within 45 minutes of an emergency call.
Beginning same-day mold decontamination can ensure that your property is returned to better-than-new condition without unnecessary stress. Crews can even help you deal with your insurance company, as we have experience working with all insurance companies in Southgate.
Let us isolate areas infested with mold and begin mold cleanup right now. You can count on us to take care of water damage restoration by removing water from your property and setting up dehumidifiers, air movers, and fans.
Secure your peace of mind and a Fresh Start by contacting us now to get a mold inspection in Southgate. Crews can handle any type of mold growth, including dangerous toxic molds. Your property can be restored to perfect condition through mold remediation in Southgate.
Servicing the cities of Belleville, Carleton, Flat Rock, Ida, La Salle, Luna Pier, Maybee, Monroe, New Boston, Newport, Rockwood, Romulus, South Rockwood, Southgate, Taylor, Trenton, Willis, Wyandotte… and surrounding areas.