Mold Removal in Trenton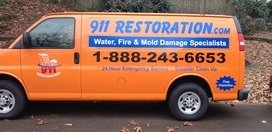 You don't have to try to handle mold removal in Trenton on your own. You can get same-day mold remediation services from IICRC certified professionals by contacting 911 Restoration of Downriver. Techs are on-call 24/7/365 and can reach your property within 45 minutes of an emergency call to provide you with a Fresh Start.
The Trenton mold cleanup experts at 911 Restoration of Downriver are licensed, bonded, and insured. Crews have the training and experience to:
Perform a Mold Inspection for You

Develop a Personalized Mold Decontamination Plan

Isolate Areas Experiencing Mold Growth

Focus on Comprehensive Decontamination 
Trenton mold decontamination techs can even pack out and store your un-infested belongings. Taking mold-free items to a safe location can prevent them from becoming infested. Get back your peace of mind during the mold cleanup process by contacting mold removal techs right now. 
Do You Have to Leave During Mold Remediation in Trenton?
Many property owners in Trenton aren't sure what to expect during mold remediation. You might even be wondering if you will have to leave your home or business while techs take care of mold removal in Trenton. In fact, you can generally remain in your property while crews handle mold cleanup.
This is because Trenton mold remediation techs will set up plastic sheeting and negative air pressure machines to isolate areas of your property infested with mold. Isolation keeps mold from continuing to spread through your property and it protects you during the mold decontamination process.
Mold cleanup techs can also utilize air filters to remove mold spores. These tiny spores allow mold to spread quickly. They can also be inhaled, in some cases leading to serious medical conditions. Let us get started on mold abatement for your property right away. Crews can start assessing your needs with a mold inspection in Trenton.
Can a Mold Inspection Identity the Type of Mold in Your Property?
Mold inspections are designed to help techs learn more about your mold infestation. Crews can determine where mold is growing and how much mold they are dealing with. However, techs will likely need to send a sample of your mold to a 3rd party laboratory for identification.
Identifying mold can allows crews to further personalize your mold removal plan. During your inspection, crews may also look for the underlying causes of your mold infestation. If they discover water damage, they can:
Begin Water Extraction for You

Set Up Fans, Air Movers, and Dehumidifiers

Handle Water Damage Restoration
Removing excess moisture from your property can reduce the odds that you'll experience an additional mold infestation. 911 Restoration of Downriver is a full-service property restoration company that can take care of mold remediation and flood cleanup in Trenton. Contact mold decontamination techs around the clock to get the professional help you deserve.
Servicing the cities of Belleville, Carleton, Flat Rock, Ida, La Salle, Luna Pier, Maybee, Monroe, New Boston, Newport, Rockwood, Romulus, South Rockwood, Southgate, Taylor, Trenton, Willis, Wyandotte… and surrounding areas.